New Year's Eve Gala MS Sonnenkönigin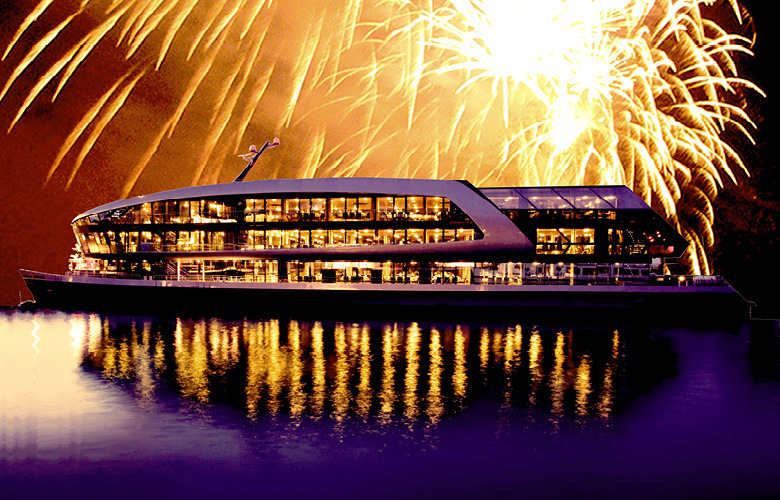 A celebration for the New Year 2020/21 fit for a king with the bubbly atmosphere of the floating ballroom on the "Sonnenkönigin". In a stylish setting, the MO restaurant team will serve a delicious 4-course gala dinner. At midnight, welcome in the New Year with a glas prosecco in this breathtaking setting while viewing the Lake Constance.

.
NEW YEAR'S EVE GALA MENU
Hors-d'oeuvre
Fresh rolls from our bakery with three spreads, spicy tuna pate, rocket cream cheese and whipped alpine butter with sea salt
Appetizer
Roasted quail on cauliflower puree with sautéed Red kuri squash and baby leaf lettuce hearts, thistle oil vinaigrette with cress
Soup
Shellfish cream soup with grilled king prawns on skewers with tarragon
Main course
Medallion of pork fillet on a shallot sauce with rosemary aroma, potato pyramid cake and green vegetable panache
Dessert buffet
Semolina flummery with red wine stewed plums, Trifle of spiced sour cherries and Mascarino (Austrian cream cheese) sprinkled with crumble, filled chocolate waffles with fresh mangos, pear caramel Tiramisu, lime yogurt mousse with raspberry pot au feu, dark chocolate mousse filled with brittle, nougat dumplings with roasted nut crumbs and bourbon vanilla sauce
Cheese arrangement with grapes and fruit chutney , various fresh bread rolls.
departure 22.00 / arrival 02.00
entry 18.00 / dinner 19.30 / end music 02.00 / end 02.00
Package price incl. cruise on MS Sonnenkönigin, hors d'oeuvres, New Year's Eve gala dinner (MO Catering), live music, fireworks fee, table reservation, connections VVV
Adults € 199,00
Children € 162.00