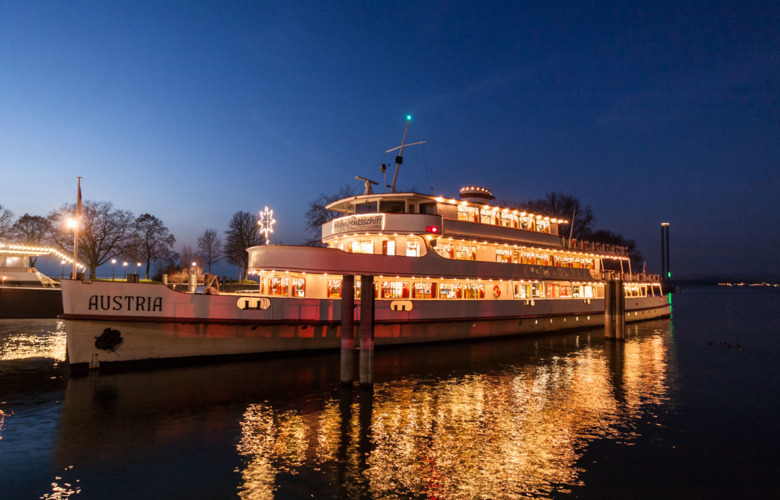 Get into the Christmas spirit with Vorarlberg Lines. On this tour you can visit three Christmas Markets in two different countries in one day!
Before you get on board our comfortably heated Christmas Ship, a trip to the two Christmas Markets in Bregenz should not be missed: one located at the market place, and one in the Old Upper Town*.

On the MS "Austria", there is an exhibit of nativity scenes in a festive pre-Christmas atmosphere. New: a model railrode as well as a ice bar on the ship! Crowning the event is the beautiful ride to Lindau: enter the lighted harbour while passing the lighthouse and the Bavarian Lion sculpture. Once on the island, immerse yourself in the special Christmas Market at the harbour where you'll find festively decorated stalls, lovely gift ideas and lots of special Christmas treats.
*Notice: Markt in the old upper town on December 8th, 9th, 15th, and 16th 2018
dep. Hafen Bregenz: 12.30, 14.10, 15.50, 17.30
dep. Lochau Kaiserstrand*: 12.40, 14.20, 16.00, 17.40
arr. Hafen Lindau: 13.05, 14.45, 16.25, 18.05
________________________________________
dep.Hafen Lindau: 13.20, 15.00, 16.40, 18.20
arr. Hafen Bregenz: 13.55, 15.35, 17.15, 18.55
Package price incl. boat trip, arrival / departure VVV
Adults € 14.40 | Groups € 13.60 | Children € 6.50