Dornier-Museum Friedrichshafen
The dream of flying comes true - on a journey through 100 years of aviation and space travel! Huge flying boats, nostalgic passenger aircraft and exciting exhibits from space travel make a visit to the Dornier Museum Friedrichshafen on Lake Constance a unique experience for the whole family. In close proximity to the airport, the museum houses about 400 exhibits over a 5,000 square meter area. In addition to numerous original aircraft, the two replicas, Dornier Wal and Dornier Merkur, are highlights of the exhibition and let the pioneering spirit of the 1920s come to life.
Experience your dream of flying in a virtual round trip tour over Lake Constance in the new 'Do 27' flight simulator.
Click here for: the Dornier Museum Friedrichshafen
Combined Ticket 2022
Includes ferry connections to and from Friedrichshafen + bus / train + entry to the Dornier Museum
Konstanz

40,70

Langenargen

29,10

Meersburg

37,10

Kressbronn

33,80

Uhldingen

40,70

Nonnenhorn

37,10

Dingelsdorf

44,70

Wasserburg

37,10

Überlingen

44,70

Lindau

40,70

Hagnau

33,80

Bregenz

44,70

Immenstaad

31,60
Prices 2022. All prices in Euro. Price per adult. Scheduled Sailing from April 10th until October 16th 2022. Tickets for purchase on the ship or at "Welle" harbour Bregenz".
Changes, printing and typographical errors as well as errors reserved.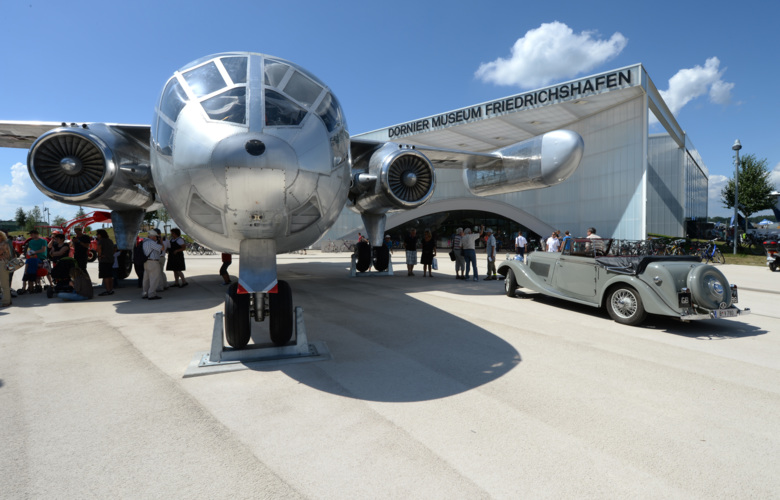 Dornier_Museum_mit_Do_31